Dating a Celebrant; Questions to ask your celebrant in your first meeting
I get it, it's always a little daunting meeting wedding vendors for the first time; especially when this isn't something you do every single day and you might not have any idea AT ALL what the shit to ask people or where to even start.  
If you are at the early stage of trying to suss out who to be your celebrant storyteller and need some guidance, make sure you check out my previous blog "Not All Storytellers are Built the Same".  STOP …GO READ IT … DON'T MAKE ME FIND YOU! I'm not kidding, this blog will be the answer to your prayers and help you find that celebrant legend you truly deserve. 
But … if you are ready to head out on your first celebrate date … you might want some totes profesh conversation starters so that you get the deets you need and your celebrant does a little happy dance because they have more opportunities to talk and answer questions … two things us hitchers love to do.  
Let's break it down:
What does your fee include?
Sometimes you might already know this because your celebrant is saaaaah amazing and has already told you.  But equally, you might want to clarify some things with the fee. Like, is the booking fee payable on top of the total fee quoted or is it a part of it? What happens with postponements and fees? Does the fee include travel? What happens if we need to cancel? Now, these things will invariably be (or should be) covered by your celebrant service agreement/contact but if you're anything like me, sometimes you want the nitty gritty before the signy signy so you know what you are about to agree to.  Don't be afraid to ask. Your celebrant will have those answers right up their sleeve.
Do you handle the music for the ceremony?
Music is a big one for ceremonies.  Whether you are choosing live musicians or pre-recorded, it's important to know how your celebrant can facilitate the many melodies of your moment.  Will your celebrant control the music for your ceremony?  Will they be stoked as heck to let you play any music through their electronic equipment? Will they liaise with live musicians or DJ's?  How do you get the music to them??  You want to know that Uncle Jim who can't work Spotify isn't going to be thrust with the job last minute.  You want and need a solid musical plan.
Do you come with a PA system?
A celebrant's code of conduct requires that we ensure that the ceremony is audible to everyone in attendance.  Common sense tells us that means voice amplification baby.  So enters the humble PA system.  Talk to your celebrant about whether their PA is battery or mains powered.  This will make a difference if you are trekking off the beaten track to marry your honey.  Can the PA system play pre-recorded music through it?  Can live muso's or your videographer plug into the PA system?  What guest capacity does the PA system work best for?  What happens if a microphone fails?  One of the biggest cons I hear from couples is that they couldn't hear a damn thing at a wedding they attended.  You want to make sure your celebrant has the goods and that your whole tribe can hear the dazzling.  
How many times do we need to meet?
It's not a bad idea to talk to your celebrant about a timeline.  That is … how often you need to meet, how often you might hear from them.  How they operate with respect to exchanging information (in person or digitally).  It just avoids any disappointment or miscommunication.  You know the playing field and what to expect on your celebrant journey from the very outset.  Some celebrants might have a little handy timeline checklist for working with them – HINT HINT – this little #pocketrocketcelebrant just knocked up a beauty.  
How do you personalise the ceremony?
Get to the heart of how your celebrant extracts the gold from you.  Do they sit in a 3-hour meeting and question you or do they send you a questionnaire to complete?  What form does that personalisation take?  Is it a chronological telling or is it weaved throughout?  Do you even want it personalised?  Are you a more of a private couple who wants the deets kept on the DL?  It's important to know what your ceremony might look like while still leaving the storytelling in the hands of your celebrant extraordinaire.  
What happens if you're sick?
Especially now, with the significance of pandemics and germs this question is coming up more and more and it's a great question.  At the end of the day, us celebrants are human too and we fall foul to the whim of our immune system like any other person.  We also have lives and that means the unexpected can and will pop up at the most unpredictable times.  But … you deserve to know what your celebrant's emergency plan is.  Talk to them about who would take control of organising a stand-in and what that means in terms of ceremony delivery.  Put your mind at ease so you know whatever happens, on the day, your celebrant has you sorted one way or another.  
There are SOOO many other questions you can ask your celebrant, like:
"How long have you been celebranting and how did they start marrying lovers?"
"Why do they like being a celebrant?"
"Where do I buy the perfect strawberry torte in Perth?"  (this question is not at all vital but damn it … I love cake and it's about the details people … DETAILS).  
But … I'm sure if you tackle the questions above, at a minimum, you'll get the things you need to ensure that this celebrant date is a winner.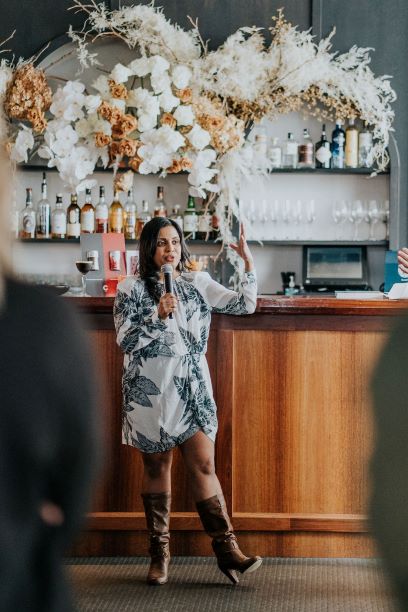 Last but not least, please … for the love of all the cake and champagne in the world, please don't insult a celebrant and ask them why they don't charge $350 like "the other celebrant" down the road.  There is a very big difference between asking what a celebrant or vendor's fee includes and asking that vendor to justify what they are charging for their talent, experience and level of awesome.  
I like to use the analogy (#loverofdrinks) "You can get Passion Pop or Dom Perignon". Passion Pop is readily affordable and may give you that light buzz.  But, you don't realise there's something missing until you are two-thirds of the way through and the nausea sets in and you start regretting all of your life choices.  
Whereas Dom is a bit more on the "special occasions" purchase list, has the backing of superb quality and reputation and makes you want to drink it again and again and again, ten times over. 
You just can't get enough.    
The choice is yours.  
Xx Dizzle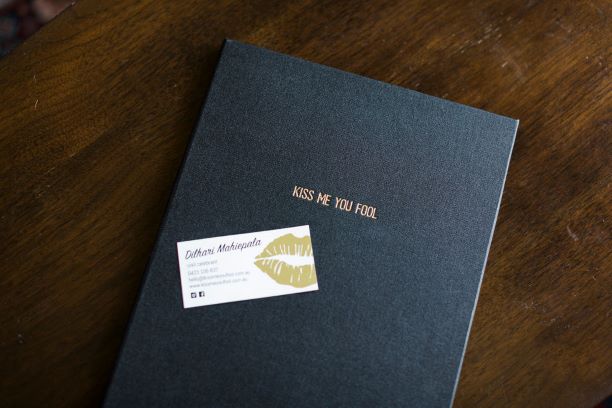 (Big thanks to Shosh Creative, Flossy Photography & Kate Drennan for capturing these wonderful snaps.)